"S H O C K I N G !" 
THE BEST WINTER READ
FOR ANYONE WHO ENJOYS  
ACTION/ADVENTURE/ROMANCE
COMEDY AND TRUE CRIME MYSTERY 
 . . . from national book award-winning author Hal Alpiar 
The number one song is Bette Davis Eyes. John Hinckley, Jr. shoots President Reagan. One computer occupies an entire wall. No cell phones or metal detectors. The World Series Dodgers beat the Yankees in six. Teachers date students. Potheads out-number alcoholics. It's

1981

, and pandemonium strikes the biggest U.S. drug deal in history in a raging storm fifteen miles off the Jersey Shore!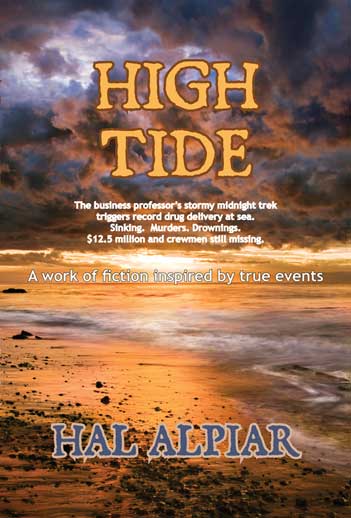 Order your print copy or E-book NOW!
. . . GO DIRECTLY TO THIS BOOK AT
AMAZON BY CLICKING

THIS LINK
Excerpt. . .
    

The three of them walk down the North End ramp to the 

beach and out

toward the water's edge. Slam remains six to 

ten feet off to the side and

Pulver, an arm's distance behind 

him, tugs every couple of steps on the

wrist rope bindings.

     Whisking waves. The last of low tide. Shells and stones 

clatter

maniacally under the rumbling of the surf. The 

Jersey Shore boardwalk

lights are almost lost to the grow

ing fog. Still five seconds apart, the

muffled fog horns 

groan.

     The men stop inches from where the last wave 

sprawls 

across the sand. 

Slam's big greasy smile looks up 

at his 

captive professor. Pulver, still

holding on as if in a 

steer-

roping contest, steps into Slam's footprints on

the side 

facing Portugal.

     "I'm gonna make yuse an offer, Teach, and for the sake 

of yer little JP

girlfriend there, and her VW and her job 

at The Shanty, and her dance

class, and her old man's 

health problems, I'm sure you'll find the offer I

give you to be totally irresistible." 

     Maddigan's face. Instant rage. Eyes shooting daggers. 

But the slight

tug of the rope he feels in response to 

his clenched jaw and squinted

stare, is damn near 

pulling his arms out of their sockets. He somehow

manages to grit his teeth hard enough to keep from 

screaming in Slam's

face.

     "Besides," Slam continues, "that job you got at the 

college still

depends heavily on us keeping our 

mouths 

shut about you buying pot

from the Pine 

Beach Boys. 

The way you handled the turtle deal 

helped

yer cause, 

but we got o-n-e m-o-r-e- thing 

we still need yer help 

with."

     Maddigan is shaken to the core. His anger quickly 

gives way to fear.

He's doing everything he can to 

keep his knees from knocking.

     "Okay, what's the story, Slam? he mutters between 

tight teeth.

     "Good boy, Teach! I knew you'd see things our way." 

He pauses to

light a cigar. The windblown glow 

outlines a hard face filled with

tough and sinister 

lines. 

"We want to rent yer boat… maybe save

some lives."
"TOP-NOTCH TRUE CRIME/FICTION STORYTELLING!"
"HIGH TIDE floods the reader with suspense, the gritty reality and intrigue

of the drug trade, all the while weaving the life of renegade college professor,

Rick Maddigan, into a tapestry of romance, greed, and campus life with a cast

of characters readers will come to love and to hate."

  VALERIE CONNELLY, PUBLISHER, NIGHTENGALE PRESS
"FUNNY!"
"The (HIGH TIDE) scene where the younger students are kicked out of class

  is excellent… I like the idea of a professor at a community college deciding

  he's going to act the way he does (the bullshit stamp is really funny)

  … you're clearly full of good ideas."  

A "TOP 10" LITERARY AGENCY AAR AGENT
"INSPIRING!"
"Your manuscript convinced me that you are a genius. Your writing

approach, niche and storytelling are all sensational." 

FOUNDER – "TOP 5" PUBLISHING DIVISION
"ROMANTIC!"
"The couple (JP and the professor) is fun and tense at the same time.

Readers will feel like they are in the middle of a blooming relationship.

And those kisses? Wow!"

PRESIDENT- A BOOK DISCUSSION GROUP
AMAZON High Tide  Reader Reviews
 Can 23 out of 23 reader reviews be wrong?
SCROLL DOWN FOR REVIEWS. WANT TO JOIN THEM? Go to www.Amazon.com/books. Put "HIGH TIDE by ALPIAR" (other books have same title) in Search window, and add your own review, or email it to Hal@TheWriterWorks.com
***** 
By Dan Duffy (Massachusetts)
"An engaging mystery story set at the Jersey Shore. Enjoyed everything about "High Tide"…The Jersey Shore setting was quite realistic and engaged me throughout the story. I also enjoyed how Hal incorporated the story within a college environment. I don't think I've ever read a book like it."
****   
By Marie A. Drayer (Maryland)
"YOU'LL BE HOOKED! As soon as you begin to read HIGH TIDE, you'll be hooked! The characters really come to life as the fast-paced mystery unfolds. This is a great read!"
*****
By Beverly Marsh (New Jersey)
"Jersey Shore Whodoneit! Couldn't ask for a better plot and humor (always a key). ! Can't wait for the sequel with the Professor, Hal!"
*****
By Kelly Trombino (California)
"Loved High Tide! Brought me right back to the early 80s. Professor Rick was a hoot. Loved the romance and the intrigue with the drug dealers. Wasn't sure how he was going to get out of this mess with those Jersey bad guys."
*****
By Suresh Kodlikar (Delaware)
"Just finished reading High Tide. The book is absolutely amazing! It deserves to go on New York's Best Seller list! You have done a terrific job of researching the topics, maintaining suspense and presenting it in an enviable style of writing. We are proud to have such an accomplished writer in our midst! I am already looking forward to the sequel!"
**** 
By Jonena Relth (California)
"High Tide is a riveting story that took me back to my college days where professors looked more like their students and engaged their students like Professor Rick Maddigan, the main character. I was pulled into the story from page one and couldn't put the book down. With just his first novel, Alpiar showed us his successful transition from writing non-fiction to fiction."
*****
By Jim Hall (Delaware)
"Hal's ability to sketch characters and scenes is outstanding. The book grabbed me from the start and wouldn't let go until I finished it. Great writing job! And Windy's Mom thanks you for the exciting diversion into the professor's life while she was recuperating from her knee surgery. It was wonderful (: "
****

 
By Sara G. Kraft (Delaware)
"Just finished High Tide and enjoyed it. I had a slow start but plowed through the ending with all kinds of excitement on the edge of my seat – Loved it!" 
*****

 
By Jim Jordan (New Jersey)
"HIGH TIDE appeals to me for a number of reasons. It is about the area where I live, and it was fascinating to see the story unfolding in the NJ marshes of Little Egg Harbor. The Author raises the level of suspense with each drug deal and manages to discreetly work in some tasteful and amusing sexual fun. He skillfully outlines Professor Maddigan's relationships and the "smoking faze" of that era. I enjoyed the plot and writing style. Both are outstanding. Hal is a wonderful storyteller and an excellent researcher. I wish him continued success with his future adventures."
*****
By Susan D. (Delaware)
"Love the Shore, Loved the book! If you like exciting stories and have memories of your favorite beach town, this book is for you. The characters are colorful and stay with you long after the last page is turned. You'll be asking for the next installment to come soon…as I did." 
*****
By M Slosberg (New York City)
"THE HIGHEST OF TIDES. Mr. Alpiar has the ability to pull his reader much as a rip-tide drags a swimmer. I may have lost a night of sleep finishing HIGH TIDE, but I gained HIGH REGARD for a powerful new novelist."

*****
By Bob Wainwright (New Jersey)
"High Tide is spirited adventure and a real page-turner. This story is a throwback to the Jersey Shore –in the easy living 80's– when life was experienced by doing things, not just keyboarding them.  A brilliant, blackmailed, pot-smoking professor, soulless gangsters, and an adoring student lover make for an exciting mix in this high seas adventure.  Definitely a must-read book!"
*****
By Bo and Lois Wood (Delaware)
"We are both from the Jersey Shore & this book took us back to our roots. We love the action & story line. Great Book!"
*****
By King of La De Dah (Maryland) 
"HIGH TIDE is a fast-paced action-filled adventure with interesting characters, unique plot twists, and tongue-in-cheek humor, all wrapped around a "down the shore" love story. With unique turns of phrase and word play liberally sprinkled throughout, Mr. Alpiar has provided his readers with a rollicking journey that is not only fun and stimulating…it is also a book that is virtually impossible to put down. I just had to see what happened next! Mr. Alpiar is a true talent, and I am eager to get my hands on his next effort. I HIGH-ly recommend the TIDE."
****
By R.A. Diane (Mid Atlantic) 
 "I wasn't sure what to expect from this book but I know the moment I started reading I could not put it down. Kudos to Mr. Alpiar for turning these actual events into a well-paced and electric fictional read. The descriptions of the area, the characters and the heart thumping circumstances found me holding my breath throughout the book. The images were so well described I felt as though I was watching a movie. It was thoroughly enjoyable to the very last page."
*****
By Tennant Barron (New Hampshire/Pennsylvania)
"If you're looking for an intriguing, fast-paced, fact-based novel you'll want to tell your friends about, HIGH TIDE is the book for you! It's as gruesome as it is funny, as thought-provoking as it is flighty, and as romantic as it is mysterious. I'm definitely anxious for the sequel!"
*****
By Donna M. Powell (Maryland)     
"Great read. There is suspense, humor, love, and wit in this book. I found it hard to put down. I can't wait for the next book or even a sequel to see what Maddigan will be up to next!" 
****
By Kathy Mcnulty "Kathy M" (Delaware)
"Mr. Alpiar turned the fascinating events of his real life experience into an intriguing story that is sure to keep you wanting more. The attention to detail provides a clear image of life in the 80's on the Jersey shore."
*****
By Robin A. Standlee (Florida)
"I rarely read novels because a good one will keep me from doing anything else. High Tide did that. It's based on a true story which makes it even more intriguing."
*****
By Linda Fleetwood (Delaware)
"I HATE the author! This book kept me up until three in the morning. I couldn't put it down. A great read!"
*****
By Ken Peach (Florida)
"High praise for HIGH TIDE! What a fun story, and I also got a lot out of Professor Maddigan's classroom lessons. In fact, I have a bunch of pages turned down for reference . . . now, that doesn't happen often when reading fiction! I eagerly await the sequel."
*****
By Andrea Bautista (Delaware)
"Amazing! I was immediately drawn into the unique, intriguing storyline…impossible to put down. The author's dedication…evident on every page. He's created dynamic, interesting characters that the reader becomes attached to. Suspense and romance grips you the entire way. I can't rave about this book enough! Definitely a must read!"
*****

 
By John Oleson (Michigan)
"GREAT READ!! Mr. Alpiar's writing reminds me of both C. J. Box – the Joe Pickett novels– and Sheldon Siegel's Mike Daley character. Could professors and students really "collaborate" as indicated in High Tide? Since being familiar with the Jersey Shore, I can definitely relate to the challenges faced by Prof. Maddigan and pal JP … a strong plot! Ideally, this is the first of a series. Enjoyed the book so much, I invested in extra copies and shared with friends!"